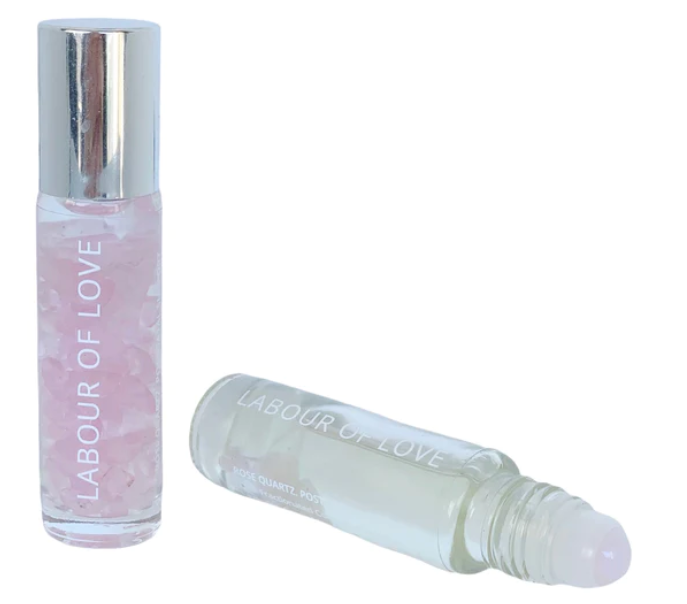 Labour of Love Perfume
Universal Armour
Regular price $22.00 Sale
Rose + Clear Quartz Infused Essential Oil Blend to Help Support, Nurture and Connect Both Mother & Baby

Giving birth is a time of great changes, but even welcome change can be stressful. Our highly nurturing LABOUR OF LOVE Premium Essential + Crystal Roller Blend has been specifically designed to support mothers through the post-natal stage emotionally, physically and energetically. The highly effective formula has a powerful effect on balancing emotions, creating calmness and helping you cope with the new change and demands. Amplified by the high vibrational crystal of Rose Quartz, known as the stone of love; It can help enhance the mother/baby bond, promote motherly instincts and help ease the symptoms related to stress, worry or frustration. A mother who feels less stressed will engage better with their new baby. 
Metaphysical Properties of Rose Quartz: Gently eases negativity and replaces it with calmness and clarity in high pressure situations. Opens the heart to promote self love, inner healing and feelings of peace.
Metaphysical Properties of Clear Quartz: Supreme gift of Mother Earth. The master of healing. Amplifies the strength of other crystals. 
PRODUCT STATS: 10ml Roller Bottle / 10g. Rose Quartz Roller Top. Vegan. Cruelty Free. Toxin Free. 100% Natural using Therapeutic Grade Essential Oils with Fractionated Coconut Oil. Ready for immediate use. Professionally Formulated and Made in Australia 
SCENT: Light floral, with a hint of citrus, moving into a woody earthy scent in its second stage of diffusion
DIRECTIONS: Topical and Aromatic use only. Apply to either behind the ears, over the temples, across forehead, on wrists or back of neck on hairline. If using for sleep aid: apply on bottoms of feet. Inhale directly from the bottle. Dilute with a carrier oil/lotion for sensitive skin. If further irritation occurs, discontinue use